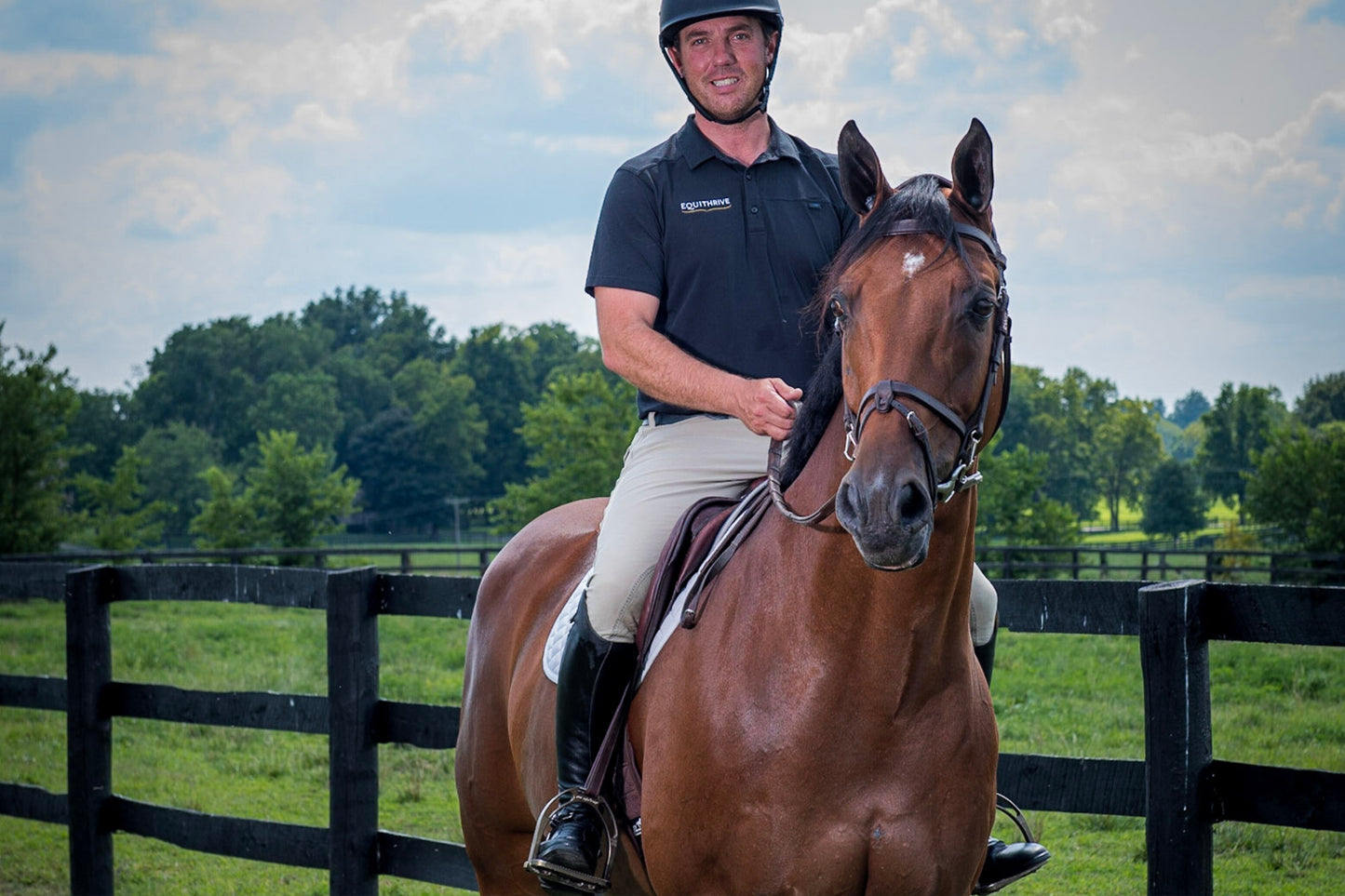 Carlchen W
Age: 12
Breed: Mecklenburg
Sire: Chacco Blue
Dam: Celline W
Rider: Alex Granato
Owner: Page Tredennick and Alex Granato 
Carlchen W ("Carl") has emerged as one of the country's top jumpers over the last two years. Co-owned, developed and ridden by Alex Granato, Carl has compiled a stack of blue ribbons, and in 2019, cemented his place among the sport's elite when he was just one of four horses selected to compete for the USA in the Pan-American Games in Peru. To top it off, Carl was named the USEF Grand Prix Jumper of the Year. 
For all his success, Carl remains humble and did not wish to speak on his accolades. But we caught up with owner Page Tredennick to get the scoop on her big star.
Equithrive: Were you expecting to receive [USEF award]? What initial emotions did you have?
Page: Neither I nor Alex were expecting the award. It came as a huge and wonderful surprise. Carl and Alex have been so strong and consistent over the year; it's fantastic to see that rewarded. When you buy a young horse, you always hope for the best, but it's never given or expected. It's been a wonderful journey, and it's not over yet!
Eq: 2019 was an exciting year. What was it like to see your horse compete in the Pan-American Games?
PT: Nervous. Exciting. Proud. I was proud of Carl and Alex for being selected and nervous for Alex. I knew he really wanted to do his best for Team USA, Carl and himself. Carl and Alex placing third in the speed and Team USA earning Bronze in the team competition was just incredible to watch and be a part of.
Eq: What do you enjoy most about Carl?
PT: Whenever I get to see Carl, he is usually finishing a round or preparing to school with Alex. So one of my favorite things about him is his uncanny ability to light up and nicker at me when I come around. I used to be flattered by this, and then reality hit: he knows whenever I come around I have carrots! I'm pretty sure he would fondly refer to me as 'the carrot lady'! I get a real kick out of this!
"We've just really gotten to develop together to this level. We got him as a 5-year-old. So I just think we know each other really well, and it's a big benefit to both of us in the ring. We go in knowing each other and knowing what to expect." - Alex Granato 
Eq: What's the story of how you came to own Carl?
PT: A trainer in Colorado, Randy Henry, showed me the video of a promising 5 year old. She knew that I am usually looking for a good horse and I really liked Carl's "rear end"! I sent my daughter Sarah over to sit on him and she figured that it would either make a good horse for her or for Alex. Shortly after he landed in the US, Sarah went off to business school making the decision to allow Alex to develop Carl for himself easy! Needless to say, Alex and Carl are an incredible match.
Eq: How has using Equithrive impacted Carl's career? What are your thoughts on Equithrive as an owner of a high level performance horse?
PT: Carl's strength, power and consistent health and results throughout the years is reflective of Alex's feeding and training program. Equithrive is a large component of that. There are many solutions out there, but very few have the science and testing that goes into Equithrive. We trust [Equithrive founder] Patrick and believe in the products.