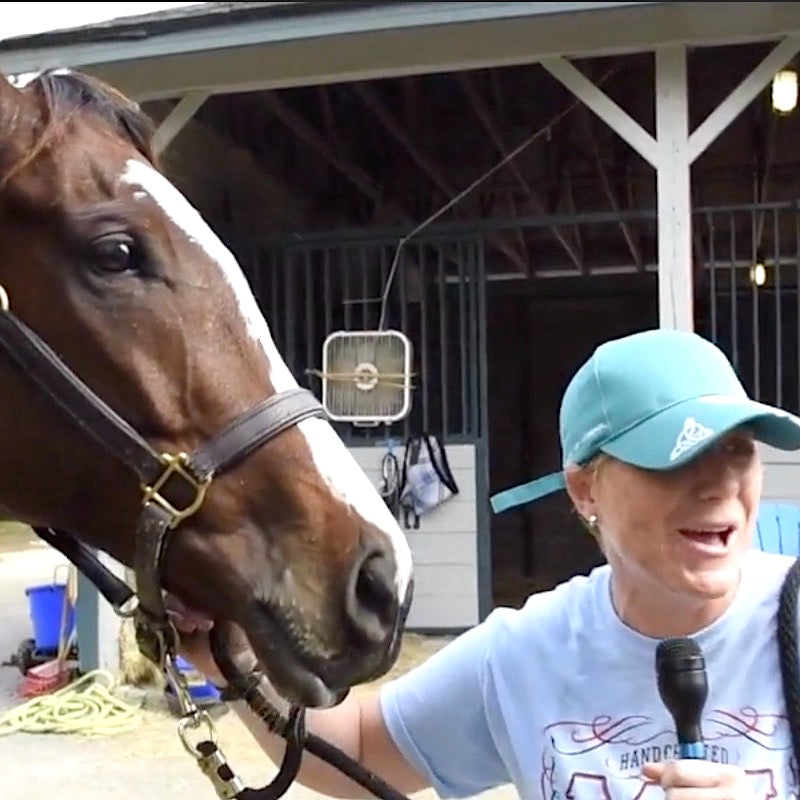 Like many a veterinarian, Dr. Shannon Reed can't help but bring her work home.
For the second year in a row the large animal surgeon and professor at the University of Missouri's MU Equine Hospital made the trek to the Thoroughbred Makeover in Lexington, KY with a former patient turned personal project.
"I grew up showing arabs, but you see the thoroughbreds from afar and they're like this mythical being," said Dr. Reed. "When I became a vet and got the chance to work on some racetracks, and then got into restarting them, there's just something about them. I can't stay away."
Dr. Reed caused a stir at last year's Thoroughbred Makeover with her a celebrity OTTB of sorts in Nate's Mineshaft, a multiple-graded stakes winning gelding with career earnings pushing seven figures. This year, she returned to Lexington with a similarly sired but much less accomplished ex-racehorse, Jake's Mineshaft. While he lacked the speed and try that made Nate a star, Jake came to Dr. Reed in seemingly solid health, and his big frame and fluid stride gave her plenty to work with.
Just few weeks after moving in, however, Dr. Reed sensed something was amiss. Unable to pinpoint anything physical, she brought Jake into the clinic for full evaluation.
"The bone scan lit up like a Christmas tree," Dr. Reed recalled. "We found these weird things in his head, and I think every vet in the world looked at him and said 'I don't know what that is.'" 
There was only one way to find out. As a surgeon, Dr. Reed was quite aware of the risks associated with such a procedure, but felt she owed it to the horse to try and fix the problem. 
"We opened up his skull and we discovered that he had congenital tumors inside his sinuses," she said. "So he's actually had his skill re-designed." 
While Jake's situation is quite unique, there are common matters to consider when working with an OTTB. 
"When you do a pre-purchase [exam] off-the-track, you need a vet who understands a little bit about what they've had in the past and where they're going," Dr. Reed explained. "Because it's just a bit different what they'll work through. I won't tolerate the same things on a warmblood on a pre-purchase as I will on a thoroughbred, especially one that's run a lot. They're just tougher than you think they are."
Once the pre-purchase exam is cleared, the re-training can begin...in due time.
"For me, the first few months are all about nutrition, and letting them have the right kind of letdown," said Dr. Reed. "They don't have to sit, they just have to have the right kind of letdown to let them come from racing muscles to getting fit in the different ways. And treating ulcers. Not all of them are going to have them, but studies that have looked at them, we're talking about 70%. So I just do it."
Hear more from Dr. Reed on Jake and her tips for re-training thoroughbreds. Special thanks to Carleigh Fedorka for the interview.