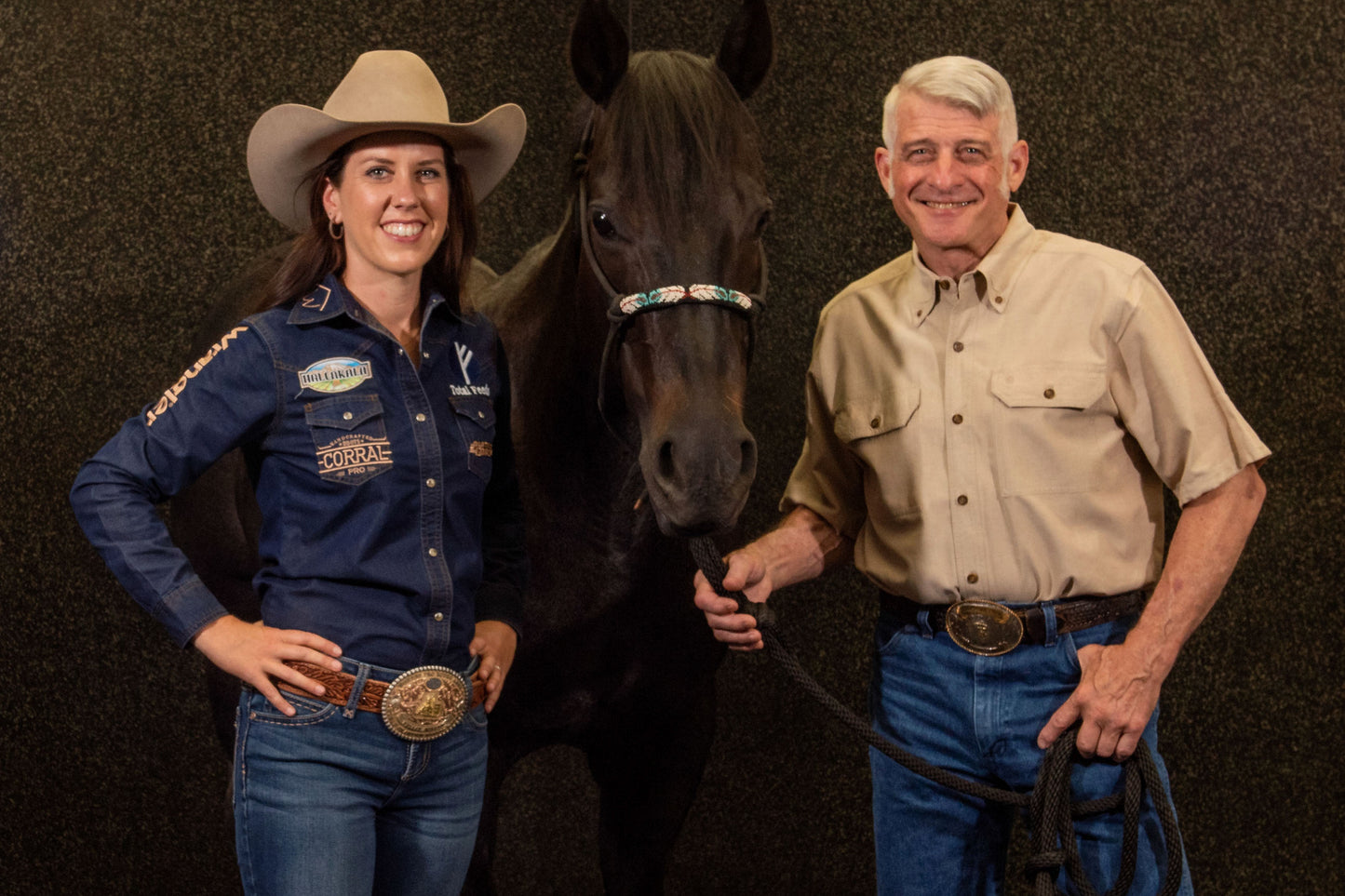 It takes a team to keep a champion barrel horse firing on all cylinders, and Nellie Miller has one of the best. 
Watching Nellie Miller and "Sister" navigate a pattern, it can be easy to forget these are not machines, but two highly skilled and finely tuned athletes. That they can do their jobs with machine-like speed and precision is a testament to genetics, training and of course, good health.
Nothing is more important to Miller than the health and wellness of her horses, which is why "Dr. Wally" is always on call.
Dr. Wally Liberman, DVM, of 

Panorama Equine Medical and Surgical Center in Redding, CA, has been an integral part of Miller's team for years. When issues arise, the team is guided by Dr. Liberman's process, which is simple enough on the surface, but involves the complicated nuances of veterinary medicine. It all starts with a good diagnosis, which begins, literally, from the ground up.
"The way you look at, diagnose, and treat feet is almost always going to be the beginning of any treatment and the health of these athletes," Dr. Liberman explained. "How you choose to treat those diagnoses becomes a thing from the veterinarian, to the team and rider, and what is best for the horse."
"Diagnose well. Image well. Treat well. Don't forget the podiatry, and don't forget nutrition." - Dr. Liberman  
Miller appreciates her vet's thoughtful approach in choosing the right course of treatment for her horses.
"There's many ways to do it," Liberman adds. "To just go and start injecting joints, especially without prior proper diagnosis, will rarely lead you to a long successful career. So, I have chosen to reduce how, or if, I inject joints, and what I may put in them. We have wonderful regenerative medicine available to us today. Very commonly, it's really not a joint injection that is needed to achieve a good outcome for joint abnormalities. There are alternatives."
Nutrition is another key component of an athlete's program, and "Sister" is no different. 
The 2017 World Champion mare, now a teenager, continues to thrive in the sport's top level; a testament to her program and Dr. Wally's process. 
"When I am trying to figure out what Sister needs in her diet, I lean on my veterinarian for consultation," Miller says. "Aside from myself, he knows her better than anyone else because he has been through the ups and downs with us. Together, we make decisions for Sister based on what she needs as an individual."
"Nutrition is complicated and what is required for each individual changes over time," says Liberman. "So you have to look at hay and hay source and how you feed that. You have to look at supplemental feed, which company you choose to be involved with, and how much of that product is required for the individual and what else we think we need. In this particular case with this particular horse, we included 

Equithrive

, because Equithrive has anti-inflammatory capabilities and is a great energy induction device, being a mitochondrial activator. So we had very specific reasons why we included Equithrive into our nutrition program. The way we have chosen to go forward with specific diagnosis, and very specific treatment for that diagnosis, created some longevity in this horse."