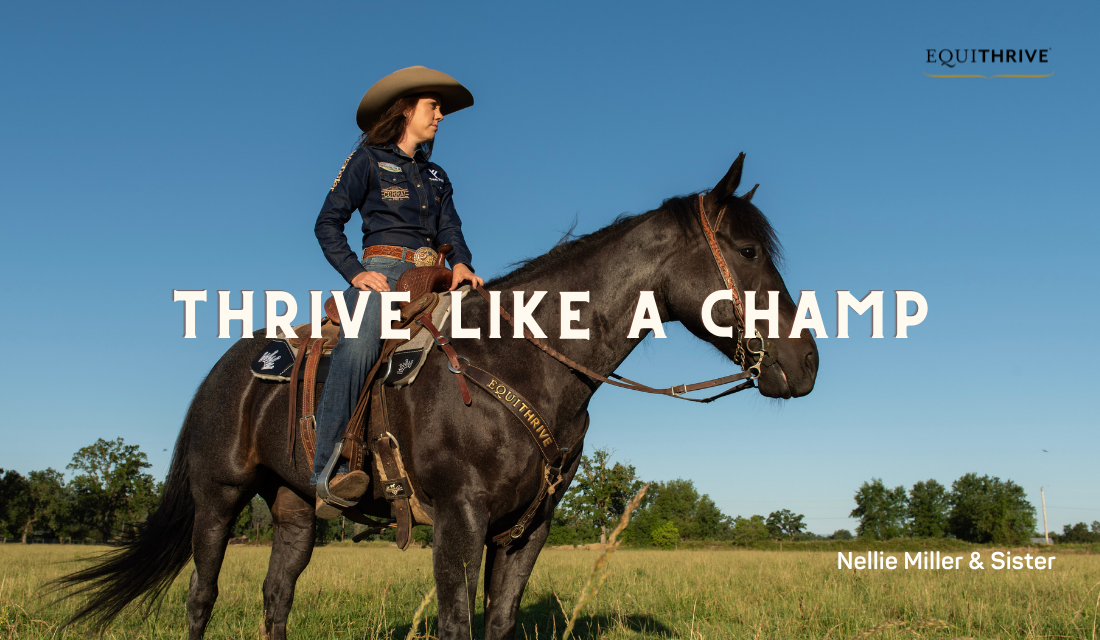 It takes a team to keep a champion barrel horse firing on all cylinders. Barrel horses need to be fast and agile; able to produce bursts of speed while maneuvering tight turns. Keeping a horse sound and conditioned is essential to being a champion. 
Nellie Miller would know. The 2017 WPRA Barrel Racing World Champion --and mother of two -- not only competes at the sport's highest level with her horses, she raises them like family. One such homebred sibling is "Sister" (Rafter W Minnie Reba, officially), the 2017 AQHA and WPRA Barrel Horse of the Year.
Miller grew up riding amateur and junior championships throughout California with Sister's mom, Reba, and qualified for her first NFR with brother, Blue Duck. Miller's father, Sam Williams, started Sister on her path to prominence while Miller took a brief sabbatical from competition to focus on her own growing family. Needless to say, Miller and Sister have hit the ground running.
"My dad always taught me the horse knows more about the rodeo than I do," said Miller. "Trust in a horse like that is irreplaceable, and she trusts me to do what's best for her."
Sometimes doing what's best means changing things up. Before making any alterations to Sister's diet, Nelly consults her long-time vet, Dr. Wally Liberman. A few years ago they decided to add Equithrive's Joint and Gut support to the now 13-year-old mare's overall wellness plan to safely counter the demands of the job.
Miller with father Sam Williams and Sister at the family ranch in Cottonwood, CA. Christy Burleson Photography.
"Any decision we make for our horses is done with very careful consideration," Miller said. "But adding the Equithrive Joint supplement to our feeding regimen was a relatively easy decision because it's such a quality product and has science to back it up."
"Since adding Equithrive to my program I have noticed an extra pep in their steps and less day-to-day stiffness." -Nellie Miller
The results speak for themselves. Nellie and Sister are back at NFR in 2021 competing for another world title. While all good competitors want to win, Miller is just happy for the opportunity to do what she loves with a horse that is, quite literally, part of the family. 
Sister's winning formula: