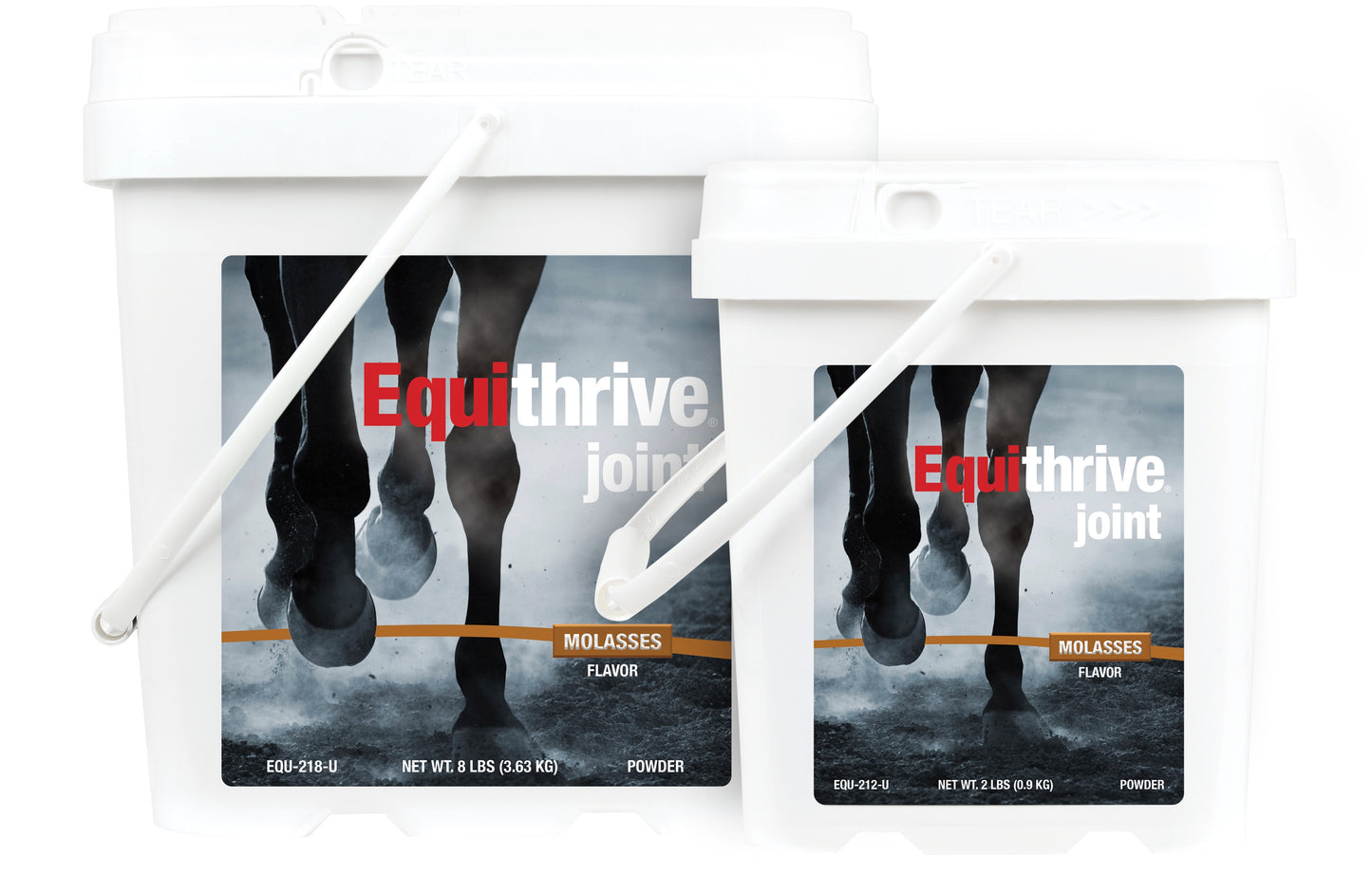 Lexington, KY - July 13, 2017
- Biological Prospects LLC has added a new flavor option for its clinically proven joint supplement, Equithrive® Joint. Equithrive Joint® Molasses Flavor contains the company's proprietary resveratrol product (Resverasyn®) as well as an unsweetened, low-sugar molasses flavor that will aid horse owners in administering the product to the pickiest of eaters. Equithrive Joint Molasses Flavor will be offered in the same packaging options (2-lb and 8-lb containers) and for the same price as the original Equithrive Joint formulation. 
"We formulated Equithrive Joint Molasses Flavor for horses that are particularly difficult when it comes to supplement administration. The natural molasses flavor used in this new formulation makes the supplement extremely palatable. That being said, the sugar content of the new Equithrive Joint Molasses Flavor formulation does not exceed the low sugar content in the original Equithrive Joint formulation, which is a negligible 4.5%," said Patrick Lawless, PhD, President of Biological Prospects.
Equithrive Joint Molasses Flavor is available to U.S. and Canadian residents at Equithrive.com. Biological Prospects LLC received regulatory approval to supply its products to customers in Canada just last month and has begun fulfilling Canadian orders placed on www.equithrive.com through its Mississauga, Ontario warehouse.
Equithrive® is the pioneer in equine resveratrol therapy for horses. Resveratrol has become known to the public as the healthy ingredient in red wine. Equithrive has developed a proprietary resveratrol product (Resverasyn®) that has been proven in multiple university studies to reduce lameness and support a healthy inflammatory response in animals. The company developed Equithrive® Joint to support healthy joint function in horses during aging, training and competition. Metabarol® contains a higher dose of Resverasyn® and supports healthy metabolism in horses, including the maintenance of appropriate insulin levels.
Veterinarians across the United States now routinely recommend Equithrive Joint and Metabarol to support joint health and metabolic function in equine athletes and in older horses. Equithrive is the global leader in resveratrol therapy for horses. For more information about Equithrive, please visit
www.equithrive.com
or call 866-721-1412. For details on the company's canine Petthrive products, visit
www.petthrive.com
.